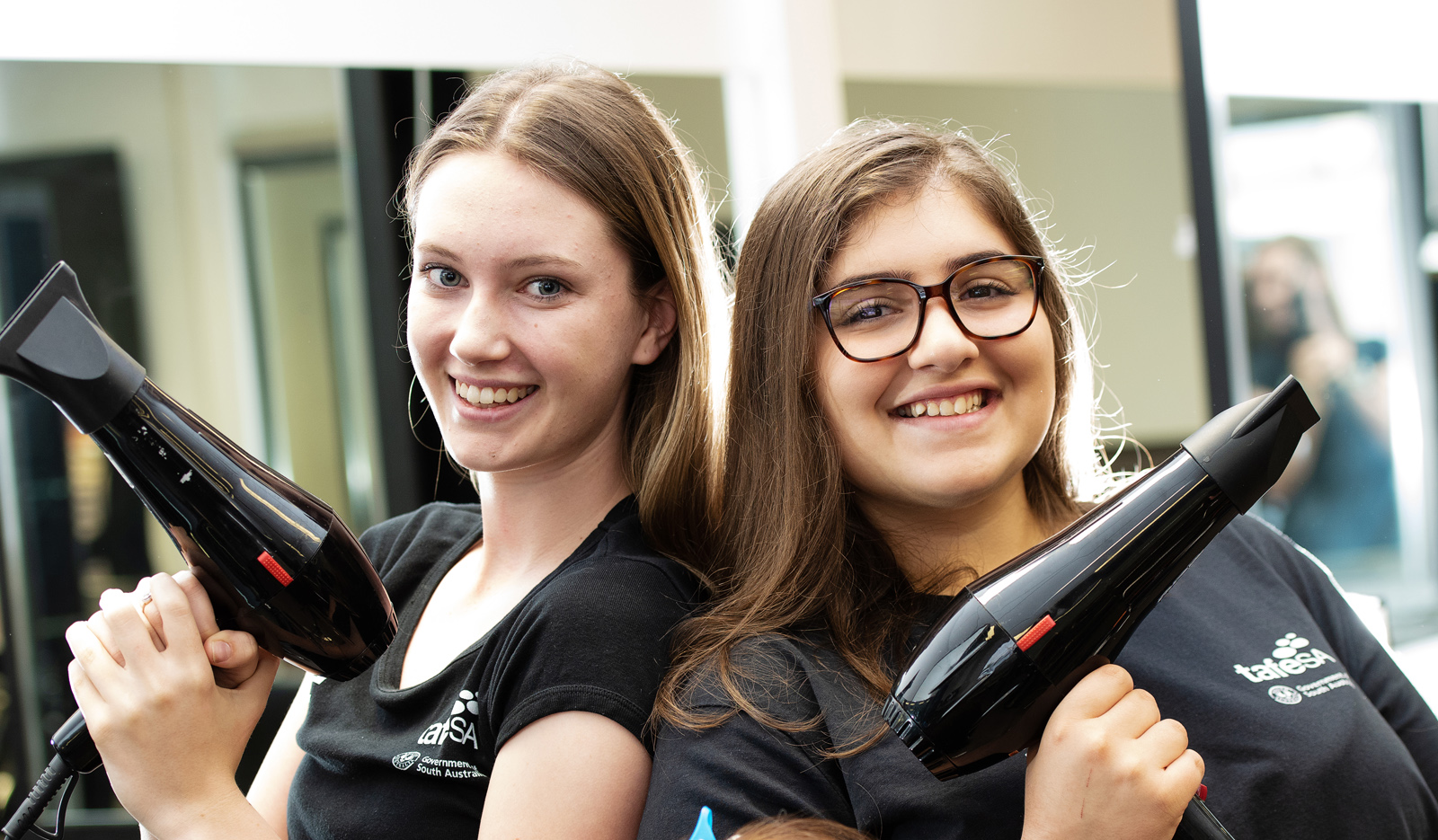 Uplifting skills used for National Skills Week
Twelve VET students from Rosewater Trade Training Centre particpated in a National Skills Week 2019 activity on Tuesday 27 August. The Certificate II Salon Assistant trainees - the "Uplift Hair & Beauty Team" showcased their skills at a community level - a women's shelter, providing a safe comfortable environment for women who are rebuilding their lives after fleeing from domestic violence.
Prior to the visit, Jayne Shortt, Schools and Community Engagement Officer from St Vincent de Paul Society (SA) Inc, presented information on the centre and its purpose. TAFESA's Priscilla the Mobile Hair Salon was a hit with both clients and trainees. With the sun shining, our Uplift team were keen to impress and the clients (and centre staff members) were spoilt for choice. Some decided to have their hair washed and blow dried in Priscilla, with full salon support. Others chose the comfort of the activity room, which was a hive of activity providing makeup and nail polish applications, braiding, curling, and straightening. Our Uplift team worked well together, rotating between the two workspaces.
An overwhelming donation of products were perfectly merchandised and our clients were invited to choose whatever they required. A special thanks to Anna and Renato from TAFESA ensuring Priscilla was open for business!
It was unanimous that the team were empathetic in showcasing their skills. We have shown that National Skills Week events can take on the form of any experience and we are grateful to Vinnies for entrusting us to help them out. The Uplift Team and Rosewater Trade Training Centre will continue to partner with Vinnies in their community programs in the future.
Some heartening quotes from the team following their debrief meeting:
"I felt comfortable as the clients were chatty and interested in my career pathway"
"Even the children wanted to have their hair done– I even got to put some makeup on a young girl"
"It was fun merchandising the products – this was going to help the clients choose what they may need. There was so many donated products. We wrote a note to tell them to take what they needed"
"Just a rewarding experience"
"A lady had curly hair and I straightened it and she was so thankful she gave me a hug"
"It was fun rotating between Priscilla and the activities room – everyone worked well as a team to give the clients the best experience possible"
Would you go back and help out again? Definitely yes